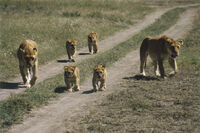 The Horde of Lions is an
in-joke
between
Megan
and
Micaela
. It was first conceived when they were chatting on the phone as Micaela played "CivCity: Rome," a game where one rebuilds Roman-era cities. =The Saga Begins=
In the middle of a game, a troupe/horde/pride/band of lions began attacking Micaela's current city. Without any warning, she exclaimed, "What the fuck are these lions doing in my city?!?" Hilarity ensued, with the lions credited with many deeds, including
Invading the 'Verse
Apparently being sentient beings
Trying to establish themselves as members of society
Failing the above, and
Eating people.
The Lions were given personalities similar to aggravated black-power activists of the 1960s, except they ate people.
YO DAWG WE HERD U LIKE IN-JOKES SO WE PUT IN-JOKES IN UR REAL LIFE SO U CAN LOL WHILE YOU LIVEEdit
Several months after the original joke had moved along, Megan arrived at her college campus to discover that signs had been put up warning students about the possibility of mountain lions invading the campus. She immediately informed Micaela of this, and Micaela promptly demanded to know what the fuck these lions were doing at college.
There is a cautionary tale in all of this: if you lol too hard, your jokes might become real.