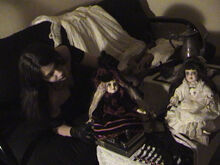 Sarrin is a relatively new member of the Sueniverse, although she'd known of it for at least a year before she joined, being, as she is, friends with Brandi. In the first four months of her Versedom, she made 50 characters.
Au moment, she plays mostly with Maggie, Megan, Kris, Sarah, and Frida. With her own characters, she favors Nicolas de Lenfent, whose page gets a lot more updating than it deserves, Lavinia, who is played very seldom due to her being hard to find plot for, but is still well-loved by her suethor, and Rosalind. Occasionally she likes to do fanart for her characters, which she sends to friends afterwards, but it's not her strongest skill.
She has an unnervingly large number of prostitutes and Shakespeare characters in her brood, and the sheer number of them who've been dismembered or raped should make you concerned. They are all either pansexual or asexual with very little in-between.
Active Characters and their Plots
[
]
Characters
[
]