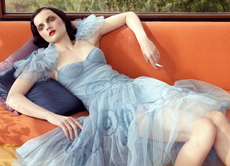 Pippa Cross is a character from the Libba Bray novel A Great and Terrible Beauty. She was a Victorian schoolgirl who got into magic-doing in a spiritual otherworld known as The Realms, then committed suicide to evade a marriage and stay in The Realms.
Instead, though, Pippa's ended up in a place that is decidedly not The Realms.
Appearance
[
]
Pippa is astonishingly lovely. It's all over the book. Pippa likes her looks, and is very vain about them, but sometimes wishes that she were charming or clever instead of simply pretty, for when one is pretty, one gets all sorts of attention, wanted or otherwise, but when one has an intellect, one can do things.
Pippa is modelled by Guinevere van Seenus, a model Sarrin was extremely happy to find.
Personality
[
]
Pippa, partly because of the time period she's from in which women are expected to behave a certain way, is giddy, vain, emotional, and sometimes hysterical.