Trickster and god from Norse Mythology. Born in Valhall. Great womanizer. Has a golden tongue and are capable of worm himself out of most situations. Immortal, but can get seriously wounded.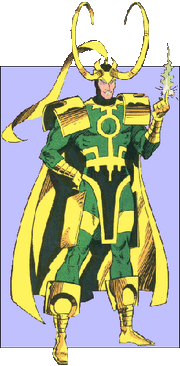 Tall and strong, with dark hair and golden eyes.

Strength: Hypnotize his enemies to not resist when he kills them. Very intelligent in a sly way. Excellent at getting women where he wants them: in bed. Unbeatable when it comes to evil plots.

Weakness: His troll ancestors. Weakness # 2: Malefica is capable of reading his mind.

Best friend: Crowley

Arch-Enemies: Malefica and Cry-Baby. The list will probably get longer...