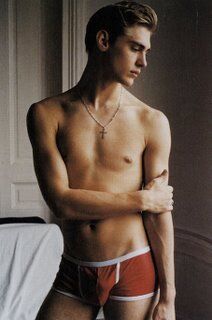 Adrien Baillon, sometimes known as Notre-Dame des Fleurs, is loosely based off the Jean Genet novel of that name. He is a rentboy who had the only-on-the-Sueniverse luck to succeed in sneaking into Veidt Industries for Adrian Veidt's ward Micaela's 18th birthday party, where he was hit on by said smartest man on the planet and whisked away to a bedroom where Bubastis watched Megan and I slash them. It was glorious.
Adrien's PB is Jeremy Dufour. He wears more than underwear in most of his pictures, but I doubt you care.
He has nothing to do with Adrienne Bailon. Stop asking.
1/2 of Mass Murderers and the Rentboys Who Love Them. Guess which one he is.
Background
Personality and Appearance
Plot
Living Circumstances